BUSINESS PARTNERS
Business partners help to build homes for local families! Area businesses, large and small, have contributed cash donations, materials at cost or free, percentages of a specific sales event, to name just a few ways they have made it possible for families to leave unsafe housing. if you would like to discuss possible ways your business could help, please contact Catherine Stevens, Advancement Director, via our 
online contact form
or call her at 
(802) 872-8726
.
Chevalier Drilling

Rabideau Architects Inc.
BUSINESS PARTNERSHIP
Thanks to the generosity of our business partners, Habitat for Humanity has provided simple, decent shelter for local families in need. Our business partners' donations of funds or services help us to continue providing families with homes and the hope of a better life. We are grateful for their kind support. Would you like to become a business sponsor?
Business Partner Program
Your sponsorship offers a wealth of benefits to your company, including tax deductions, excellent public relations and a permanent positive effect on company morale. Green Mountain Habitat for Humanity's Business Partner Program challenges companies to work with us to ensure that all people have decent, affordable shelter. Business sponsorships address the problem of poverty housing, providing a positive solution, United in the goal of helping those in need, employees at every level get to see each other at their best on a Habitat build. It's an opportunity to grow, to bond and to experience good feelings that get carried back to the workplace. Email our Advancement Directorfor more information.
Partner with Habitat
There are numerous ways to form a partnership with Habitat, whether through product donations, financial support, mobilizing employees as Habitat volunteers or a combination of these possibilities. Habitat invites you to join us as we work in partnership with people in need everywhere, helping them to secure decent, affordable shelter.
Financial support
Product donations
Mobilizing volunteers
Grants and awards programs
Public awareness raising
Contact Information
For more information on partnering with Green Mountain Habitat for Humanity, please contact our Advancement Director.
Or Call our office and ask for the Advancement Director and see how your company can become a sponsor. (802) 872-8726
Our vision is a world where everyone has a decent place to live. Your donation makes it possible.
DONATE
DONATE NOW!
Your gift builds homes for local, low-income working families who are living in unsafe or overcrowded apartments. Your tax-deductible donations makes it possible for Green Mountain Habitat for Humanity to continue to build simple, decent, energy-efficient and perpetually affordable homes for families who don't qualify for a conventional bank mortgage. YOU can become part of the solution to the need for affordable housing and to build hope and a promising future for Vermont families.  You can make a one-time donation or sign up for monthly donations. Our vision is a world where everyone has a decent place to live andwe invite you to partner with us with your donation— Thank You!
Donate Now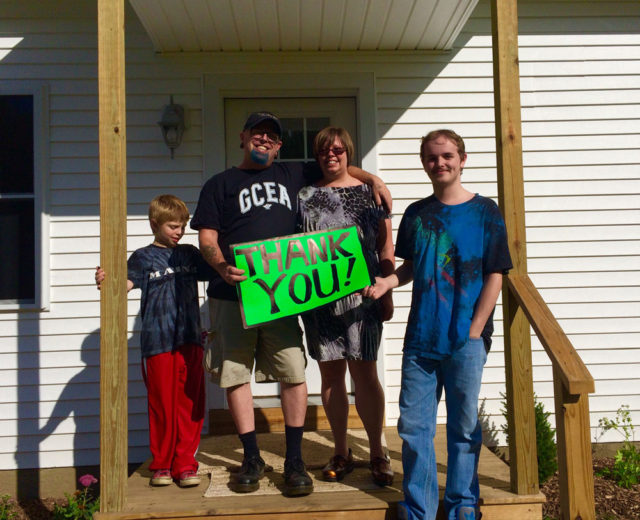 YOU can become part of the solution for affordable housing for Vermont families.