BUSINESS PARTNERSHIPS
Businesses are an important part of building homes for local families in need of safe and affordable housing. Our partner families work for local businesses and will be more productive at their jobs if they have stable homes. There are a variety of ways that you can partner with Green Mountain Habitat for Humanity including sponsorships, gifts in kind and corporate team building opportunities. For more information about possible partnerships, please contact Catherine Stevens, Advancement Director, via our 
online contact form
or call her at 
(802) 872-8726
.
Corporate Team Building
Team Building with Green Mountain Habitat for Humanity provides your company or community group with the opportunity to strengthen your team while helping local families achieve their dream of owning a safe an affordable home. Unlike spending a day doing trust falls and building marshmallow towers, your group will be challenged to communicate and work together to build something that makes a difference. Employees return to the workplace motivated, connected, and inspired. We provide all the tools, materials, and training — you just provide a tax-deductible donation and the helping hands!
Why is there a financial donation?
Teams contribute a tax-deductible donation to cover the cost of materials and supervision for your build. This support also allows us to continue to provide affordable housing opportunities for families with limited incomes and establish safe neighborhoods. With such high housing and land costs in Chittenden County, Corporate Team Build donations are crucial in helping us to serve more families.
What else do corporate sponsors receive?
Your logo posted on our website as a community partner for a full calendar year
Private tour of our construction site for anyone unable to attend
Lunch provided on your build day
T-shirt for each participant
Thank you shout out on Facebook, Instagram and in our e-newsletters
How do I sign up?
Fill out our Team Building Inquiry form below and a Habitat staff member will contact you with build options based on your preferences. We will work with you to customize and schedule a build for your team. Once you have a scheduled build day, we will send you a donation form and your volunteers will be able to register online prior to your build. Teams contribute a tax-deductible donation based on the size of your group. We ask for $1000 for every 10 volunteers, and we have a 10 person max per day.
TEAM BUILDING INQUIRY FORM
Contact Information
For more information on partnering with Green Mountain Habitat for Humanity , please contact our  Advancement Director.
Or Call our office and ask for the Advancement Director and see how your company can become a sponsor.  (802) 872-8726
Our vision is a world where everyone has a decent place to live. Your donation makes it possible.
DONATE
DONATE NOW!
Your gift builds homes for local, low-income working families who are living in unsafe or overcrowded apartments. Your tax-deductible donations makes it possible for Green Mountain Habitat for Humanity to continue to build simple, decent, energy-efficient and perpetually affordable homes for families who don't qualify for a conventional bank mortgage. YOU can become part of the solution to the need for affordable housing and to build hope and a promising future for Vermont families.  You can make a one-time donation or sign up for monthly donations. Our vision is a world where everyone has a decent place to live and we invite you to partner with us with your donation — Thank You!
Donate Now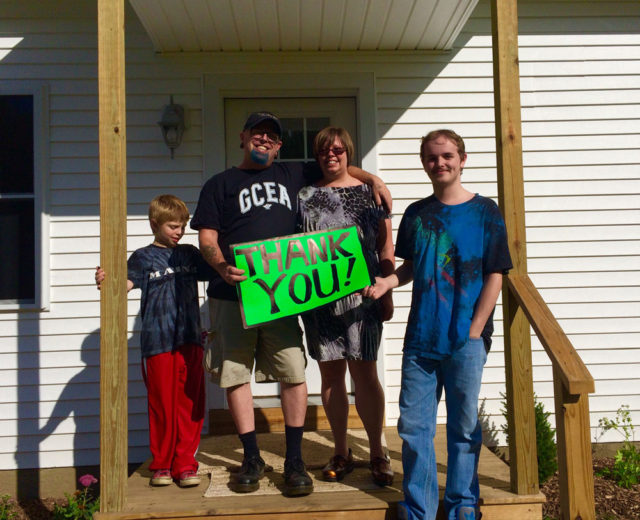 YOU can become part of the solution for affordable housing for Vermont families.