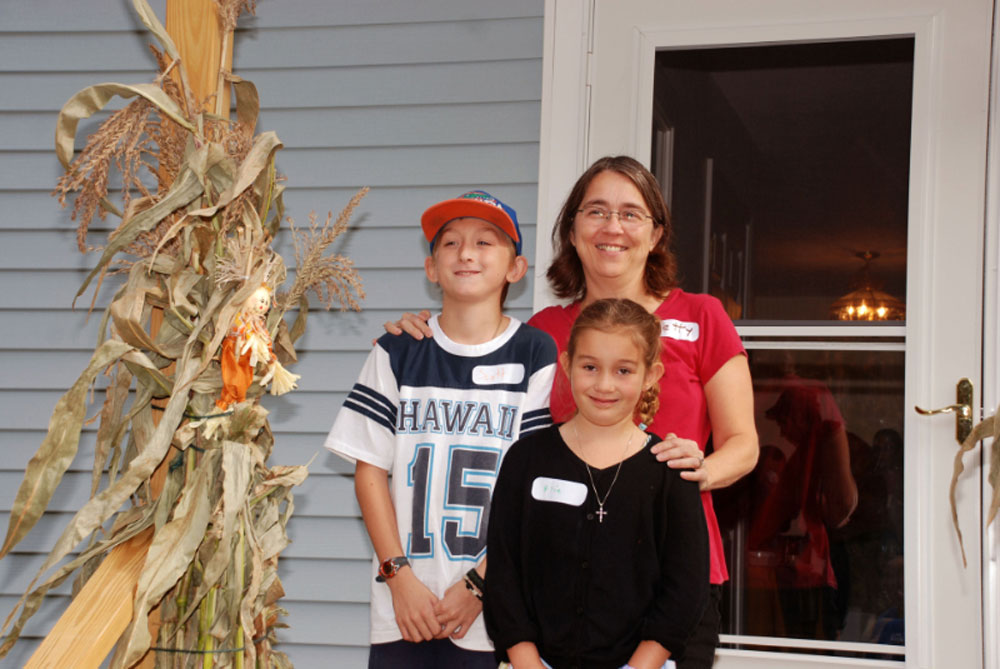 "I'm in awe that so many people are helping to build our home and that the volunteers work so hard." That's the reaction that Betty has about the process for her future house being built on Railroad Street in Milton. "I had never done construction before and was nervous about whether I would be able to doa good job on my "sweat equity" hours but it's been fun! I've learned how to cut with a hand saw, how to tape windows and use spray insulation so far."
Betty is an inspirational woman. She raised her son and daughter by herself and is now the legal guardian of her son's two children, Scott Jr. who is 10 and Kylie who is 8. She works full time at the UVM Medical Center as a medical assistant, has a scrapbooking business and somehow finds time to collect food for the local food shelf and toys for Toys for Tots! As if that weren't enough, Betty recently had her long hair cut and donated to an organization which makes wigs for people with cancer and alopecia. Inspired by her grandmother, young Kylie is now growing her hair long so that she can donate it.
One of the requirements to become a Habitat Partner Family is that the family must be currently living in unsafe and/or overcrowded conditions and that is certainly the case with the Button family who lives in a 45 year old mobile home. The two-bedroom mobile home has mold and mice have eaten the insulation. In addition, the trailer is sinking which has caused the exterior siding to bow away from the walls. Their heating bills last winter were over $2000 and they were still cold.
When Betty found out about Green Mountain Habitat for Humanity, and the information meeting for the Milton house, she became excited about the opportunity to move her family into a safe and decent home. "The process went so quickly and as soon as the Family Selection committee contacted me with questions, I responded immediately! The kids and I anxiously awaited the decision and when I was told that we would become a Habitat homeowner, I burst into tears. We are so grateful for this opportunity to leave very unsafe conditions and move into our own affordable and energy-efficient home."
"The kids are very excited about having their own rooms. At first they were nervous about changing schools but now they can't wait to meet their new teachers and to make new friends. Also, they'll have a yard to play in." Betty continued, "There are so many things that I'm looking forward to in addition to lower energy bills. Everything will be new! There will be lots more kitchen cupboard space and a space for my washer and dryer. The heating system will keep us warm in the winter. Helping to build our house is so much fun and moving in will be amazing!"