Corporate Team Building
Businesses are an important part of building homes for local families in need of safe and affordable housing. Learn more about Corporate Team Building here.
Home Sponsorships
We invite businesses and organizations to help us build Habitat homes through partial or full house sponsorship. Our house sponsors have included individual faith groups, local businesses, national corporations, college groups, and civic and community organizations. House sponsorships provide the critical funding needed for Habitat home construction, and 100% of every house sponsorship is used to purchase the construction materials and services needed to build a Habitat home.
Many house sponsors also provide groups of volunteers who work side-by-side with Habitat partner families at the construction site. Groups that work together to help build a Habitat home find it to be a unique and powerful experience of shared service, cooperation, and team building. Habitat volunteers leave at the end of the day with a well-earned sense of accomplishment and the satisfaction of having made a tangible contribution to their community.
To discuss options for Habitat home sponsorship, please contact our Advancement Director via our online form, email cstevens@vermonthabitat.org or call (802) 872-8726.
Our vision is a world where everyone has a decent place to live.
Your donation will help make the dream of homeownership a reality for low-income, working families in Chittenden County.
DONATE NOW!
Your gift builds homes for local, low-income working families who are living in unsafe or overcrowded apartments. Your tax-deductible donations makes it possible for Green Mountain Habitat for Humanity to continue to build simple, decent, energy-efficient and perpetually affordable homes for families who don't qualify for a conventional bank mortgage. YOU can become part of the solution to the need for affordable housing and to build hope and a promising future for Vermont families.  You can make a one-time donation or sign up for monthly donations. Our vision is a world where everyone has a decent place to live and we invite you to partner with us with your donation — Thank You!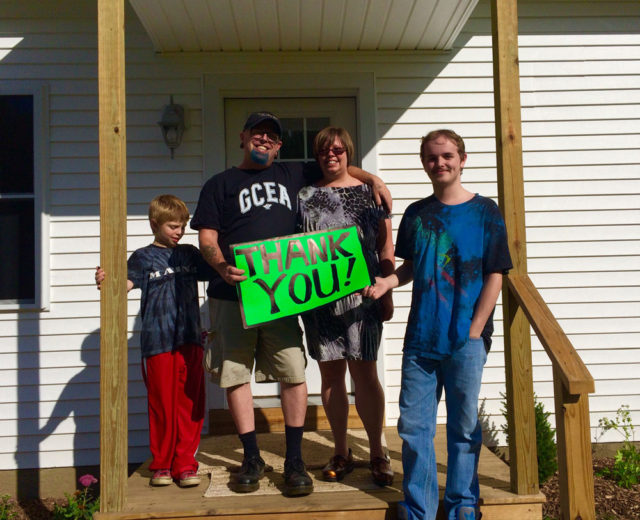 YOU can become part of the solution for affordable housing for Vermont families.