WOMEN BUILD
Women Build is an opportunity for women to combat housing insecurity by helping to build Green Mountain Habitat for Humanity homes for low-income working families in Chittenden County.
It's also a way for women to share or learn building skills and provides the chance to make a difference in the lives of local families.
What's required?
If you have some building skills, great! However, all you need is a willingness to learn and a desire to help, and our skilled supervisors will train you on one or more tasks. Each team of 10 women must raise and donate a minimum of $1000 to cover the cost of the day's materials, and t-shirts, snacks and lunch for the group.
When is it?
Women Build is currently an annual, weeklong event which is typically held in the summer;although, with continued interest from women in our community, there's the potential to expand this event into other parts of the year.
Our 2020 Women Build is scheduled for August 10th-14th. Our August 10th, 12th and 14th build days will be held at 225 Elmwood Avenue in Burlington, and August 11th and 13th at 57 Hinesburg Rd in South Burlington. The event is 8AM-2PM, and sorry — no half days are available during Women Build week.
How do we register?
All teams must contact our Volunteer Coordinator and reserve their build day in advance. Send an e-mail to adevoe@vermonthabitat.org or call 802-318-7533 to get in touch. Build dates are assigned on a first come, first served basis; reach out as soon as possible to secure your preferred date for the team.
Our company wants to help, but can't participate. How do we get involved?
Consider being an event sponsor.For more details about our current sponsorship levels, see our 2020 event flyer below.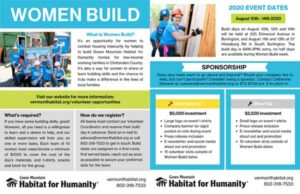 Volunteers are the heart and soul of Green Mountain Habitat for Humanity. Join us!