HOMEOWNERSHIP
Green Mountain Habitat for Humanity provides the opportunity for low-income families to partner with us to become homeowners.  Through our Homeownership program, we sell homes to qualified families at a low interest mortgage, and with a set monthly mortgage payment plus homeowner insurance and property taxes that does not exceed 30% of your gross monthly income.  The application process once started takes about three months. If a family is approved, the time from when the family applied to when they can move into their home takes about 12 months.
At Green Mountain Habitat for Humanity, we know that homeownership plays a critical role in breaking the cycle of poverty. We build on average five or six homes each year in Chittenden County, helping families achieve the dream of homeownership.
Qualifying for a Green Mountain Habitat for Humanity Home
The selection of families who will collaborate with Green Mountain Habitat for Humanity will be done in a way that does not discriminate on the basis of race, color, religion, sex, sexual orientation, national origin, ancestry, age, physical or mental disability, or familial status.
Each applicant for Green Mountain Habitat for Humanity housing is individually reviewed
by the Family Services Committee (a volunteer committee of Green Mountain Habitat for Humanity) based on the criteria listed below. The criteria are guidelines and are not considered absolute.
All candidates are screened using the following program criteria
: Housing Need, Ability to Afford Homeownership and Willingness to and evidence of ability to Collaborate.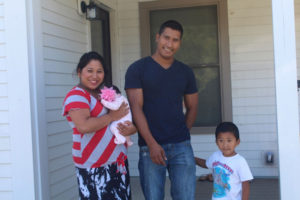 Housing Need
Demonstrate a need for a Green Mountain Habitat for Humanity home, including one or more of the following:
Living in overcrowded conditions or unsafe environments
Living with relatives, friends or in other temporary housing
Having high monthly housing expenses
Needing accessibility features for a household member
Unable to qualify for conventional mortgages on a market rate house
You must also be aware that your need for housing will be assessed relative to other applicants.
Willingness to Collaborate
Must show a willingness to and evidence of ability to collaborate with Green Mountain Habitat for Humanity in the construction of their home as well as building the mission of Green Mountain Habitat for Humanity in the communities where we build. Green Mountain Habitat for Humanity home buyers are required to invest a minimum of 400 hours for a two-adult family or 200 hours for a single adult family of "sweat equity" hours working on the home building sites and other projects (see charts below). As members of the Green Mountain Habitat for Humanity community, including a homeowner or condominium association (where applicable), Green Mountain Habitat for Humanity home buyers must also demonstrate an ability and willingness to be respectful neighbors and responsible homeowners, maintaining their home and property in good order and appearance
Approved applicants must also complete the following Green Mountain Habitat for Humanity selected Trainings. The time spent in these classes is counted toward your "sweat equity required hours".
Financial Education
Home ownership classes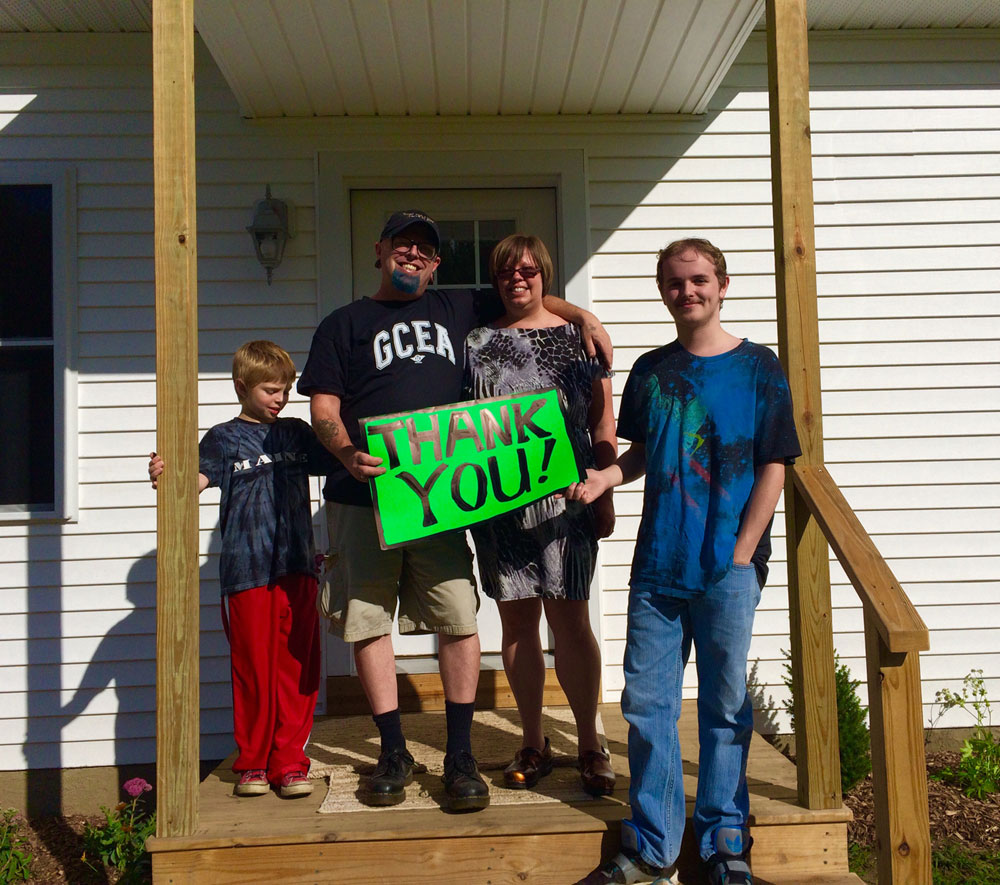 Ability to Afford Home Ownership with Green Mountain Habitat for Humanity
Qualifying income limits are determined by family size earning up to 80% of the greater Chittenden County MFI (Median Family Income). These guidelines are adjusted each year and are based on numbers defined by the U.S. Department of Housing and Urban Development (HUD). Green Mountain Habitat for Humanity reserves the right to revise these guidelines at any time.
2020 HUD Income Limits
HHI: Household Income
All information presented here applies to all of the Burlington-South Burlington, VT MSA.
Source: https://files.hudexchange.info/reports/published/HOME_IncomeLmts_State_VT_2020.pdf
| | | | | | | | | |
| --- | --- | --- | --- | --- | --- | --- | --- | --- |
| # in Household* | 1 | 2 |  3 | 4 | 5 | 6 |  7 | 8 |
| Minimum HHI | $32,100 | | | | | | | |
| Maximum HHI (80% Median) | $51,350 | $58,700 | $66,050 | $73,350 | $79,250 | $85,100 | $91,000 | $96,850 |
*Household means all related or unrelated persons who occupy a housing unit.
Additional Guidelines and Information
Housing Payment: Monthly housing payments include principal payment and interest (if applicable), taxes, insurance, repair fund and in some cases an association fee.
Residency Requirements: Must be Citizen by Birth or Naturalization or Legal Permanent Resident of the United States.
Families not initially accepted may reapply during other application periods, should their circumstances change. All information is considered confidential and is to be used only for the purpose of selecting qualified families for homeownership..
Green Mountain Habitat for Humanity
Sweat Equity Policy
Sweat Equity is Green Mountain Habitat for Humanity's (GMHfH) most valuable tool in building the partnership between staff, families and volunteers. The term refers to the actual hands-on involvement of partner families in the construction of their own homes, other partners' homes, and other Habitat assigned activities.
For a two-adult family: minimum of 400 hours of which 150 hours must be completed on GMHfH home build sites.
For a one-adult family: a minimum of 200 sweat equity hours of which at least 75 hours must be completed on GMHfH home build sites.
Program Request and Review Process – Overview
The Family Selection Committee will review your program request using our three program criteria to determine eligibility for participation with the Green Mountain Habitat for Humanity program.
Once your program request forms have been completed the review process will begin and typically takes between 4 to 6 months. An incomplete application form or missing documents may delay the review process.
Preliminary Eligibility: If you have read the qualifications above and you think you meet these basic criteria, an initial phone screening will determine if you meet our income criteria guidelines and demonstrate an ability to afford homeownership with Green Mountain Habitat for Humanity. Click here to send an e-mail to the Family Selection Committee to request a phone screening or to ask any questions.

Green Mountain Habitat for Humanity Family Selection FAQ
What does Green Mountain Habitat for Humanity do?
Green Mountain Habitat for Humanity (GMHfH) is a non-profit organization that partners with working families in Chittenden County to build and sell simple, decent, affordable homes. That means you are able to buy a new home, if you qualify, with a 0% interest mortgage! We use those mortgage payments to invest in more property so that we can build more homes and help more families be homeowners.
Who owns the home?
You do! We are a non-profit that not only works with you to build the house but we also hold your interest free mortgage.
How are families selected to partner with GMHfH?
Families are selected based on three things: Need for better housing, ability to pay, and willingness to work with us to build the home.
What kind of houses do you build and where are they?
GMHfH and our affiliates partner with families to build houses in Chittenden County, Franklin/Grand Isle Counties and Lamoille County. We build both single family and duplex houses, and have also renovated existing homes.
How do I apply for a home?
You will receive an application to complete when you attend an Applicant Meetings or request one from our office. Meetings are held and applications are accepted when GMHfH has a new building site and are ready to select a partner family/families to build with. We hold about one meeting a year.
You may add your name and contact info to our Applicant Meeting mailing list by emailing the Family Selection Committee Family Selection Committee, and then having a brief eligibility screening conversation with a Committee member.
What if my credit history isn't perfect or I don't have a lot of savings?
That's OK! We do not partner with families that would qualify for a loan from a traditional bank. We will check your income (pay stubs, SSI, disability), tax returns, credit history, bank statements and financial obligations to make sure that you can afford the monthly mortgage payment and that we wouldn't be placing a financial burden on you.
What do I need to bring to the Applicant Meeting?
You do not need to bring anything to the applicant meeting. You will need financial forms like pay stubs, W2's, and bank statements to complete your application. You will also need to be available for a home visit from Family Selection Committee members to discuss your application, verify your current housing assessment, and discuss what partnering with GMHfh would entail.